Tackers is a fun, introductory, games-based sailing program designed for kids aged 7-12 years, delivered at recognised Tackers Clubs. Kids don't need to have any sailing experience or club membership to participate. All the equipment, including the boats, is provided.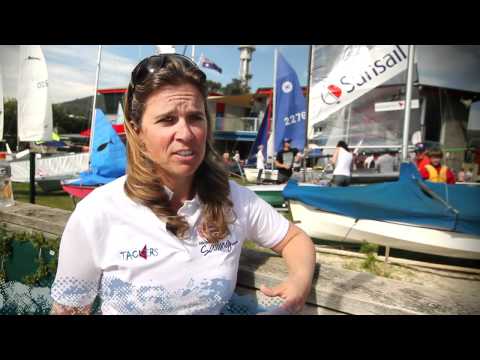 The Tackers Program is delivered in small groups by a Yachting Australia qualified Instructor and Assistant Instructors.
There are three levels that kids can progress through:
Tackers 1 – Having Fun
Tackers 2 – Tricks & Techniques
Tackers 3 – Sailing Fast!
In Tackers 1 – Having Fun, kids sail in pairs in small boats. It's a great way to meet new friends and kids have the chance to sail with others in their group.
Tackers 2 – Tricks & Techniques, if kids are confident they can sail a boat on their own with lots of support, supervision and encouragement from the Instructor and Assistant Instructors.
The final level is Tackers 3 – Sailing Fast! This is a chance for the kids to sail boats on their own, learning how to make the boat go faster and playing more games, all whilst still under the guidance and supervision of the Instructor and Assistant Instructors.
Each level involves 20 hours of participation, structured as a four or five day holiday program or as a series of sessions over several weeks either on a Saturday/Sunday or after school.
In between the Tackers levels, some Tackers Clubs provide practice sessions where kids can get together and work on improving their sailing skills. This is called 'Tackers Fleet'.
Tackers Intro is a special experience of Tackers that allows you to sample the program before you make a decision about enrolling in a Tackers 1 – Having Fun course. It's not a pre-requisite to Tackers 1, but it will give kids the chance to get out on the water and see the types of games and activities that Tackers offers.
The Tackers Intro includes a 2.5-hour session with a qualified Instructor and Assistant Instructor and a certificate of achievement. It costs around $40-60.
If kids enjoy the Tackers Intro, Tackers 1 – Having Fun is a great next step.
The fun doesn't stop when kids finish Tackers 3. Most Tackers Clubs have 'Green Fleet' programs for the kids to progress onto. Green Fleet is a type of introductory fun racing where kids learn how to go around a race course with kids of similar ability, where the main focus is on enjoyment. If kids want to do more racing, they move from Green Fleet into club racing.
All Tackers receive a certificate of achievement at the end of each level. Some clubs* will also provide kids with a Tackers Pack at the start or end of every level.
*Please enquire at your centre about whether they provide Tackers Packs
| | | |
| --- | --- | --- |
| Tackers Level 1 | Tackers Level 2 | Tackers Level 3 |
| | | |
Who should I contact to register for a Tackers Program or to find out more?
Each Tackers Club has a designated Tackers Club Leader who is there to organise the Program and answer any questions parents/guardians might have.
Click the Activity Finder to search for a Tackers Club near you  
Click on your relevant State below to download a Tackers brochure
How can parents/guardians be involved?
Tackers programs are fully supervised by Yachting Australia qualified Instructors, and Assistant Instructors employed by the club. They oversee the session planning and delivery, and make sure the kids have fun and develop their skills and confidence in a safe environment. If a parent or guardian would like to be involved in Tackers as a volunteer, there are many off-water roles available. You can talk to the Tackers Club Leader about what opportunities are available at the club.
Parents/guardians can:
Volunteer at the club in off-water roles, like helping out with social activities
Promote the Tackers program to their friends and family
Help the Tackers Club raise funds for new equipment and special events
Talk through their child's progress with the Tackers Club Leader or Instructor
Support 'Play by the Rules' making sport inclusive, safe, and fair
Encourage and support kids as they learn new skills and meet new friends through Tackers
Frequently Asked Questions
Do you have to be a member of a club to participate in Tackers?
No, one of the great things about Tackers is you don't have to be a member of a club to participate. In fact, kids receive an honorary club membership during their participation in the program and some clubs extend this to their families.
Do kids need to be able to swim to participate in Tackers?
Some ability to swim would be preferable, however they will be wearing lifejackets at all times. In the first session, the instructors supervise the group in a 25-metre swim with their lifejackets on. Parents/guardians are encouraged to talk to the Tackers Club Leader or the Tackers Instructor if they have any concerns.
What type of boats will the kids be sailing?
The Tackers program is only delivered in a boat called an OziOpti. This boat was specifically designed for the program and is an ideal introduction to dinghy sailing. The boats allow two kids to sail together and as they gain confidence and move up from Tackers 1 to Tackers 2 they are able to sail the boat alone. The boats have built-in buoyancy which means they provide extra stability.
Are the kids out sailing on their own?
When kids start sailing in Tackers 1 they will be sailing in pairs. There are usually 6-10 boats in a group and there will be an Instructor and an Assistant Instructor in a safety boat supervising the group. The safety boat stays on the water all the time the kids are sailing.
Do the kids need any special clothing to participate in Tackers?
No, there is no special clothing needed. We recommend kids wear clothes and shoes that they don't mind getting wet and bring a towel and a change of clothes with them. Download the Tackers Checklist of What to Bring.
What can kids do when they finish Tackers?
There are three levels to the Tackers program which kids can progress through. When they finish Tackers 3 – Sailing Fast! they can progress to a program at the club called Green Fleet. This is a program that introduces kids to fun racing. To find out more about what happens after Tackers contact the Tackers Leader at your local club. Click the Club Finder to find your local Tackers Club.