Welcome to the Tackers Boathouse,
where learning to sail is all about having fun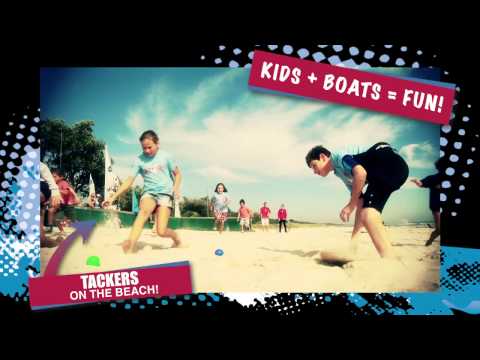 Click here to download fun Activity Sheets
Tackers is all about having a great time with other kids, playing loads of games and going on adventures while learning how to sail together. There isn't a court, a pitch or an oval like other sports, instead you have a beach, river, or lake to explore.

Tackers Instructors and Assistant Instructors are there to teach you how to sail and make sure you are having loads fun at the same time!

When you start sailing in Tackers you will be with a group of kids  and get the chance to sail with someone else in the boat so you can learn and have fun together.
After you have finished the Tackers Program, you get a Tackers kit bag filled with lots of goodies and a Certificate of Achievement to remind you of your great day!
Your Tackers Checklist!!

Here is what you need to bring with every time you go sailing with Tackers:
Clothes & Shoes – wear ones you don't mind getting wet and will keep you warm on cold days.
A change of clothes and shoes.
Towel
Drink bottle, lunch and snacks.
Hat – to keep you warm and protect you from the sun.
Sunscreen
…and loads of energy!